LarabackPRO
A Cashback Business for Growing Businesses

The performance-optimized cashback system with a website developed on AngularJS, PHP Laravel, and other latest frameworks to offer better security and sustainability. It enhances the overall brand outlook by offering a minimalist user interface. The React native based mobile app for Android and iOS platform works in sync with website configuration. Let your user never miss to activate cashback by offering chrome solutions and Firefox browser extension.
Key Features

Our approach to developing a website, mobile app, and the browser extension are keeping in mind the business need, less maintenance, maximum automation, fewer errors along with optimum security and optimization for the SEO compatibility.
Growth hacking cashback business solution
A cashback system that is powerful to sustain the higher scale, security, automation, SEO friendliness.
A perfect cashback website, mobile app, and browser extension for growing business.
All device responsive
Fluid website layout fits in Multiple device resolution to offer great user experience.
Multi-level cashback
Set multiple cashback categories for a store and system will identify maximum rate.
Complete data log
All out clicks are recorded with time-stamp, click location, user id, network, links & more.
Promotional notification
Broadcast notifications about hottest offers to improve the reach and conversion.
Fraud user detection
Identify users with multiple & duplicate referral account with our smart reports and stop causing frauds.
Conditional cashback payout
Set first time payment condition, minimum withdrawal limit at each payment mode.
Cashback tracked alerts
Send all cashback updates automatically to users system with OneSignal integration.
RTL ready
Compatible with Arabic, Urdu or any other RTL language within few configurations
Dual cashback type
Based on merchant terms, set Cashback type to 'cashback' or 'reward'. Super easy way.
Translation ready
All the content, labels, configuration is dynamic to translate without coding.
Intuitive CMS
Manage all content from easy to use admin panel without writing any code
Multiple languages Support
Convert your cashback system to multi land compatible easily.
LARABACKPRO DEMO
Robust tech solution
LARAVEL/ANGULAR BASED
Coupon – Cashback Website
Highly scalable, best suited for the growing cashback business from across the globe. The minimalist design with unique features puts you on top of the industry with key differentiators of the business. Promote best coupons, product deals, and offer cashback to create highly loyal returning users.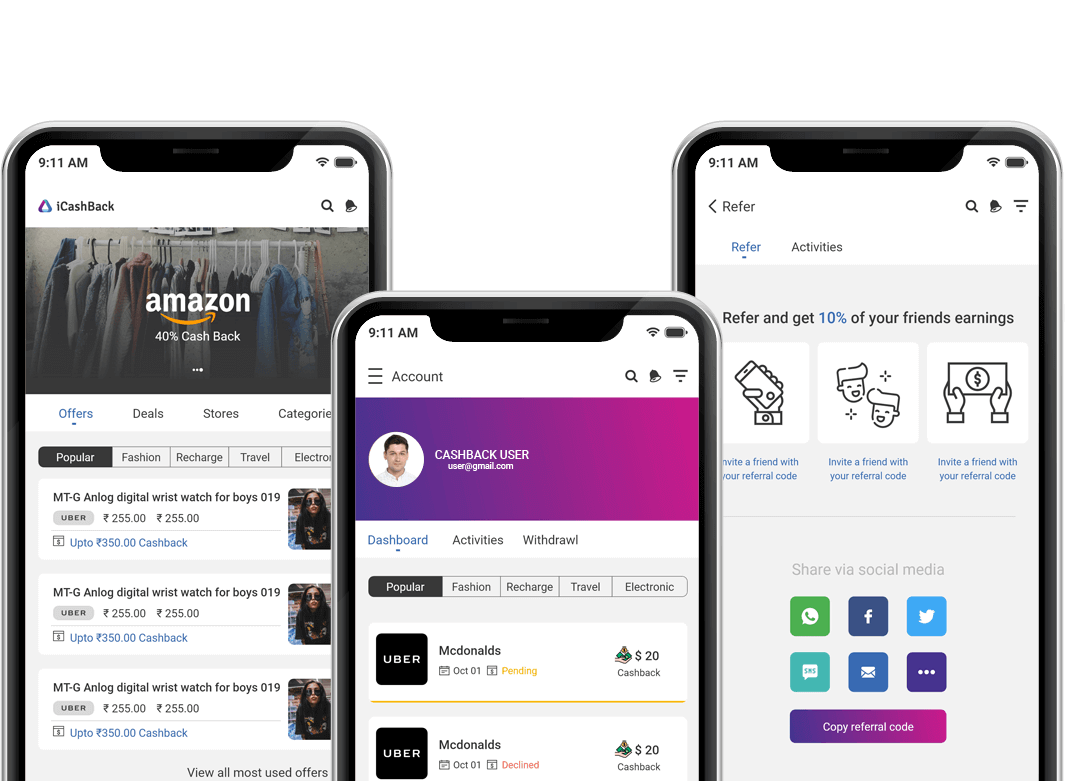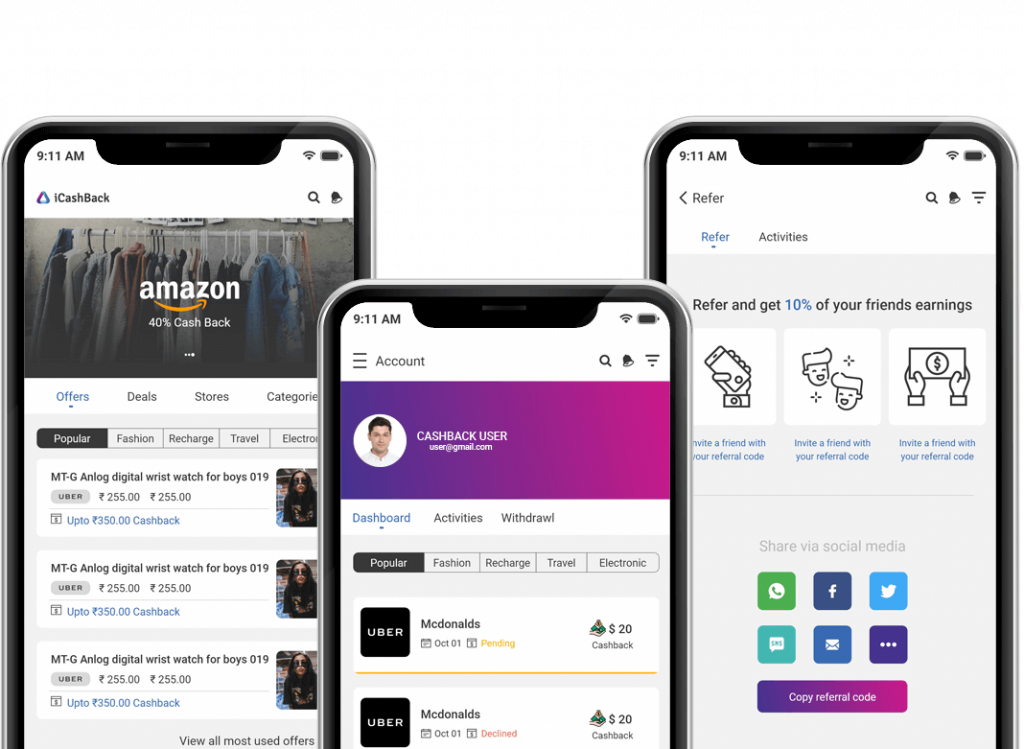 Note: This is an APK file. Please Try in Mobile Device.
ANDROID & IOS
Cashback Mobile App
The app is using cutting-edge technology developed by Facebook namely React Native framework. It's connected with the website database by scalable API, such that users can access the data from any platform easily.
Coupon, deals, cashback, and in-app notification makes the app stand out in crowd across the spectrum.
CHROME, FIREFOX & MICROSOFT EDGE
Activate Cashback Browser Extension
Cashback reminder browser extension helps acquire and retain customers easily. Moreover, improve the conversion as every time user visits any merchant partner, it reminds users to activate the cashback.
Opt for the apply coupon automatically add-on to let users get the maximum benefit of the promo code.