CashbackAPP
Fully automated cashback App Development
Launch a cashback coupon app development for Android and iOS to reach your mobile audience. Manage all options from the intuitive admin CMS and reach out to millions of mobile users today!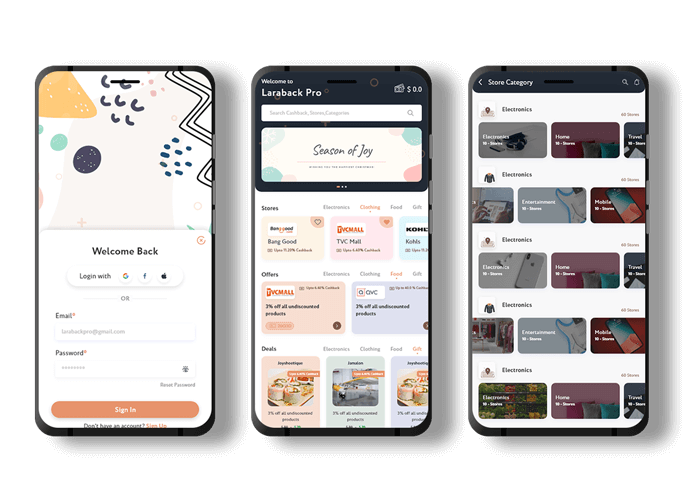 Launch a Cashback App for Android and iOS to reach your mobile audience.

Mobile Number Database
Captured mobile numbers can be used to target back via Telegram, WhatsApp or SMS to promote offers & get traction.

All-devices Compatible
The app is compatible with all devices with all the latest versions of Android & iOS with tested firmware compatibility.

Performance Optimized
App consumes very little processor works in lower internet speed, consumes
less battery.
Cashback App Development Features and Benefits

User-friendly Interface
A simple, intuitive design that's easy to navigate, ensuring users to easily find the best deals, offers, and discounts.

Push Notifications
Regular updates on new deals, cashback earnings, and withdrawal confirmations.

Referral Bonuses
The cashback app includes a referral system for extra earnings through friend and family invitations.
Mobile Compatibility
The cashback app is designed for various mobile devices, making it accessible anytime, anywhere.

Purchase Store History
The ability for users to track their cashback transactions and providing with up-to-date information about their savings.

Global Store Access
A wide range of international e-commerce stores are available for cashback shopping.
Secure Transactions
Users can safely and securely make purchases through the app with the reassurance of top-notch security measures.

Exclusive Deals
Users might have access to exclusive deals that are only available on the app.
Cashback apps for android
Our expertise lies in creating high-performance cashback apps for Android that provide users with the opportunity to earn cashback on their purchases. Our apps are designed to be intuitive, reliable, and user-friendly.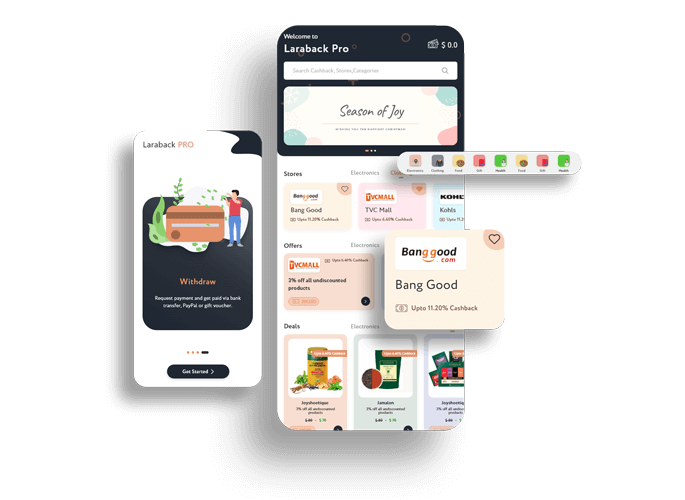 Amazing coupon cashback app features and benefits
With all the features of a standard cashback app, the cashback app only comes with, coupons, deals, cash-back, refer & earn notifications, purchased store history, how it works screens, frequently asked questions, and many more.
Note: This is an APK file. Install it on your Mobile Device.
Cashback coupon app development using the latest technologies
With cutting-edge advanced technology, start your daily deals app with the latest design and features. The cashback clone app is developed using React Native, JavaScript, CSS, etc for a seamless experience. Fully editable cashback app source code to chase your future custom development requirements.
By using the latest technological advancements, the app can handle a high volume of transactions, providing reliable and smooth performance. Its design can also be customized to fit specific business needs, creating a unique and optimized user experience that drives customer loyalty and repeat purchases.
The use of technologies like React Native, JavaScript, and CSS ensures that the app provides seamless navigation, real-time updates, and a visually pleasing interface.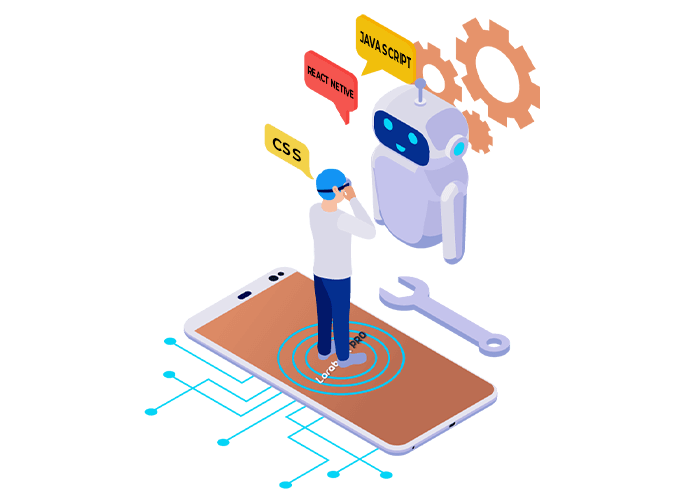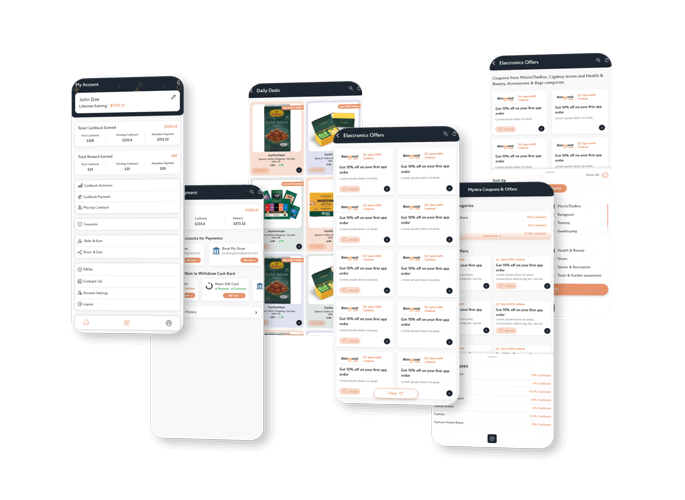 All the functionalities that matter for the discount coupon app
The app has multiple screens for a listing of coupons, stores, categories, and how it works, refer & earn.
A neat, clean, sorted user interface for all public and user pages has made it the perfect choice for today's business.
The app should have a comprehensive system for managing cashback and rewards. Users should be able to see their cashback in real-time and understand how it is calculated.
Coupons are organized by stores and categories, allowing for easy navigation and access. Additionally, a comprehensive cashback and reward management system provides real-time visibility into accumulated cashback and rewards, making the user experience more transparent and engaging.
For the app owners and admins, detailed analytics and reporting features would be beneficial to track the app's performance and make data-driven decisions.
Everything for a cashback app user
Right from the log for clicks, cashback, bonuses, referral transactions, refers & earn to cashback payment requests, and missing cashback claim system, there's everything for users.
A cashback app would have secure payment gateways, ensuring users' financial information is safe during transactions.
Users should be able to easily find the coupons and deals that they are looking for using the app's search functionality.
Users would have access to a wide variety of deals and coupons, sorted by categories and stores. This makes it easier to find specific deals that match their shopping needs and preferences.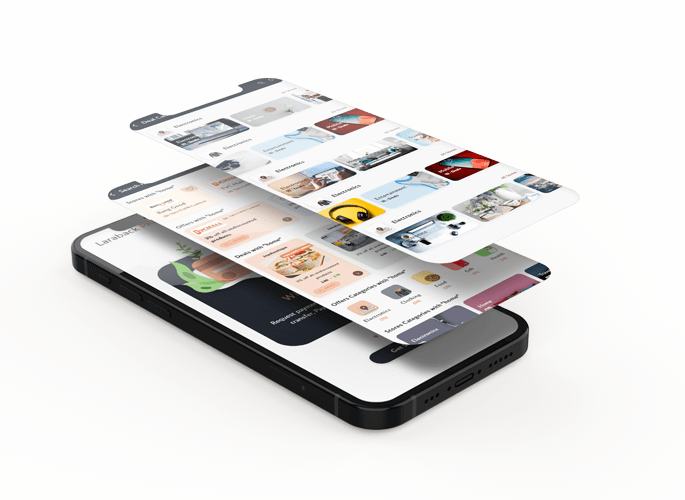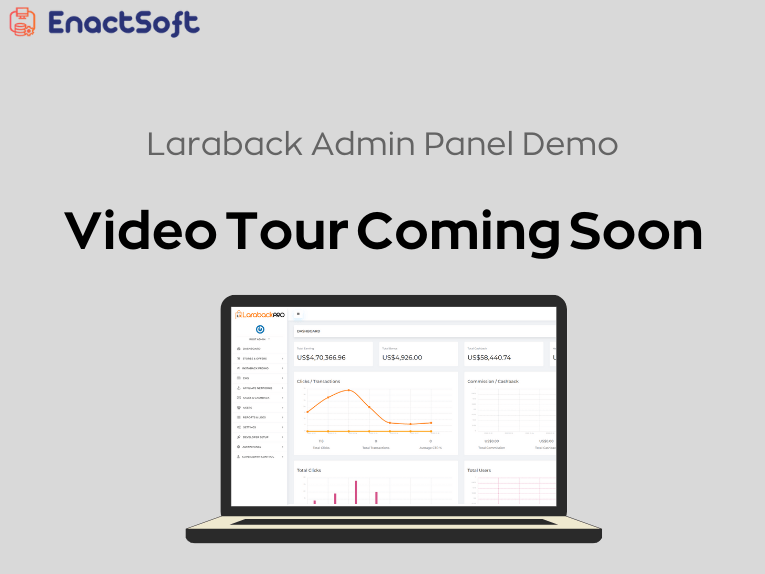 Easy to manage cashback app admin panel
App-only CashbackAPP has a very intuitive admin panel to create, manage and update stores, categories, and offers.
Create pages of your choice with drag-and-drop elements. Edit and update content for your brand. Reach millions of mobile users with your app branding.
Deals App Development Pricing
View Pricing
$3450 $3899
₹225000 ₹260000
Product Daily Deals

Feature the handpicked product daily deals by sourcing it manually from a popular shopping destination. Each product deals will have a dedicated landing page to help you improve the product name-based keyword targeting via SEO.

Postback for instant tracking

Instant cashback tracking with affiliate network postback configuration. Now track the cashback from unlimited networks with a dynamic postback tracking system.

A missing cashback claim system

Let your users intuitively reports to the missing cashback transactions by selecting the captured shopping trips and providing necessary details, thus, escalation to the network is eased with adequate information.

Social login

Apart from the form signup, let your users signup using the Apple, Facebook, and Google accounts.
Email notification

Keep your users updated with automated email notification for cashback tracked, status changed, payout requested, missing cashback ticket updated etc.

Multi-languages

Cashback App-only supports multiple languages to offer a native experience to the international audience, though the currency will remain ONE.

Fraud user detection

With our unique referral fraud detection, identify the users violating the referral rules, and ban them to prevent fraudulent earning.

Charts & Stats in User Dashboard

User can see the available, pending, paid, declined cashback and reward using charts and stats

Share & earn

With share & earn, your users can create links and promote on their social media, friends & family to earn the cashback as if they have done shopping themselves.

Cashfree or PayPal Automated Payout

Based on your choice, we will integrate any ONE of PayPal or Cashback UPI transfer API integration. With this API integration, you can payout cashback to your users fully automatically with few clicks.

Business Reports

Get the business reports for overall performance, Analyse the reports to make data-driven business development decisions.

Currency conversion

Some global merchants provide the commission rates and sale transaction data in USD/EUR/Pound etc. Convert different currencies to your cashback system currency, i.e. USD to EUR, EUR to JPY, etc.

Email verification for payout request

Verify users with OTP for accessing the cashback payment page so that to avoid any fraudulent withdrawal. The OTP verification is done once in user lifetime.

Landing page for WhatsApp/Telegram

Promote your WhatsApp & Telegram channel subscription on a dedicated landing page by linking your WhatsApp and Telegram joining link, content for benefits of joining a channel.
Free Complimentary Add-ons
DigitalOcean VPS Setup

VPS configuration, security setup, development environment.

Cloudflare Setup

Website security enhancement by routing Cloudflare setup. Free plan is sufficient to being with.

SSL setup

Cloudflare free SSL setup with 12 months validity, if opted for CloudFlare setup
Business Email on ZOHO

Your branded domain name business email setup using ZOHO. Create 5 personal and 20 group email for FREE

SMTP Setup by MailGun, Sendinblue

System generated email sending setup using Sendgrid SMTP service with due domain verification. Free plan is sufficient to begin with.
Affiliate Network Integration
$150 / per Network
₹9750 / per Network
Campaign API

To create merchants automatically

Coupon API

To create coupons automatically

Available Affiliate networks

We provide integration with all top best affiliate network.

Click here

to see the list.
Commission Rate API

To create a cashback structure automatically

Sale Data API

Track sale transactions and award cashback automatically

Integration with New networks

Any new network integration at $250 per network subject to the compatibility study.
Recently Deployed Projects





Our Various Cashback Software Solutions
We are specialized in coupon cashback business solutions. To meet every entrepreneurs need, we have the best cashback solutions as your need.
Launch Your Affiliate Coupon Cashback App
Get started with the best cashback mobile app "app-only" development today! We specialize in developing coupon apps that offer the best deals and discounts to help users save money on their purchases.