Before we compare, let's first understand what CashbackOS is?
CashbackOS is a WordPress-based cashback solution developed for startups aiming to launch a full-fledged comprehensive cashback system. It is developed by EnactSoft – a cashback solution development company.
EnactSoft understands that people who run or are planning to start businesses prefer to see several cashback solutions, such as websites, apps, or extensions, offered by several development companies.
There is nothing wrong with that. Before buying anything, customers are entitled to know and understand the ins and outs of products if there are lots of choices available.
CashbackOS includes a website, android, and iOS mobile app, and browser extension to meet every customer's requirements.
In this article, I will share a comparison of CashbackOS with other cashback solutions available on the market to help you make the right choice.
We will also see a comparison between CashbackOS and Laraback. Laraback is also developed by EnactSoft and is a Laravel-PHP cashback script solution. If you're not sure about whether to pick WordPress vs Laravel cashback solution, this comparison is for you.
Cashback Scripts for Affiliate Business #
Parameter
Everybody Else
CashbackOS
Clone solution?
Most of the cashback solutions available in the market are clones of CashKaro, Ebates, etc.
No, CashbackOS is not a clone solution. It's developed by affiliate industry experts with unique design and innovation. It's important to be unique to stand out among competitors.
Customization availability
Some development companies provide customization but due to clone in nature, customers struggle to do it on their own and rely on development companies or need to hire developers.
Easy to use and customization-friendly cashback script solution. CashbackOS is a WordPress-based solution and is also compatible with Gutenberg. As an owner, you can customize the layout from the admin panel as you want, with no coding knowledge.
Unique features
They have limited ability to provide extra features as clone solutions.
Excluding normal features, CashbackOS comes with many unique features like missing cashback, conditional payout, fraud referral detection, share and earn, and many more.
Network Integration
Some of them provide network integration.
CashbackOS can be integrated with various affiliate networks partnered by EnactSoft. If you don't know which network to choose, our team will guide you through the process.
Automation
Limited with automation and requires you to manually update all coupons and deals.
CashbackOS is a fully automated cashback solution that allows you to create merchants, coupons & offers, automatic cashback daily using network API integration.
Cost
Typically cheaper than CashbackOS but not transparent.
However, it does not mean they offer the required quality and support service.
Very transparent in the pricing. CashbackOS is available to get at a discount price during promotions. No quality or support compromise at discount price. Even if you buy the solution at a regular price, it's definitely worth the customization, functionalities, and features it offers.
SEO-friendliness
Their clone solutions are not up to the standard SEO markup. It required a lot of effort to rank among other cashback websites available in the market because of less uniqueness.
Highly SEO-friendly and comprehensive in nature to cherry-picked by search engines. If you use proper heading structure, product title, and description, image optimization, you can expect to get high visibility.
Documentation
Most of them only provide textual documents. If you're not experienced with CMS, you need to contact developers to fix changes. Sometimes they may cost you for high configuration.
You will get textual documentation along with video tutorials, blog resources, and support from the team to help you out when you're stuck. You can reach out team via email, WhatsApp, and Skype.
Above are considerable differences to help you decide when you purchase a solution.
However, there are many common features and functionalities that all cashback solutions provide, which are social login, refer and earn, link tracking, design, color palette, top deals, and festival deals, email notification, and many more.
Another common thing to consider is support. Many development companies offer solutions but consider a company that has its own solution and idea to help anytime you need support.
Clone solution development companies may not meet your future customization needs as your business expands since they lack knowledge of what they offer.
Right?
WordPress Cashback Script Vs Laravel-PHP Cashback Script #
Laraback is an advanced PHP cashback script that has a front-end in Laravel and a dedicated admin panel PHP. It also includes a website, android, and iOS mobile app and extension.
Parameter
Laraback
CashbackOS
Suitable for?
Scalable businesses. Anyone experienced with affiliate business or familiar with how cashback business works.
For startups looking to grow and earn online. Best for anyone who wants to hustle part-time and start an affiliate business
Technology Stack
Website:
PHP Laravel
LaravelAPI
React
JavaScript
HTML
Bootstrap 5
Website:
WordPress
PHP
Lumen API
AngularJS
HTML
Bootstrap 4
Performance
Improved caching, optimized database queries, and SPA for a user dashboard.
Requires external plugins for caching and extra performance. Database queries are not optimized enough.
Customization
Every feature, functionality or UI can be customized.
Some customization is limited to WordPress Structure and is not feasible.
Unique Features
OTP verification during signup
Custom rule-based cashback
Custom referral at each user level
WordPress ecosystem can be leveraged such as using WP forms, getting content, using existing block plugins
By default comes with a WP Wordfence firewall, and backups.
Supported Languages
Multiple-languages
Single
Scalability
It is highly scalable for millions of users. Because of the bespoke architecture of the source code and the infrastructure (server).
It is not suitable if you are aiming to get more than 10k or millions of monthly users. Due to the WordPress architect, it doesn't allow optimization beyond a point.
What do customers say about CashbackOS? #
This additional information may help you make a better decision if you're still not sure or looking to purchase CashbackOS.
Here is a review from a customer at Capterra.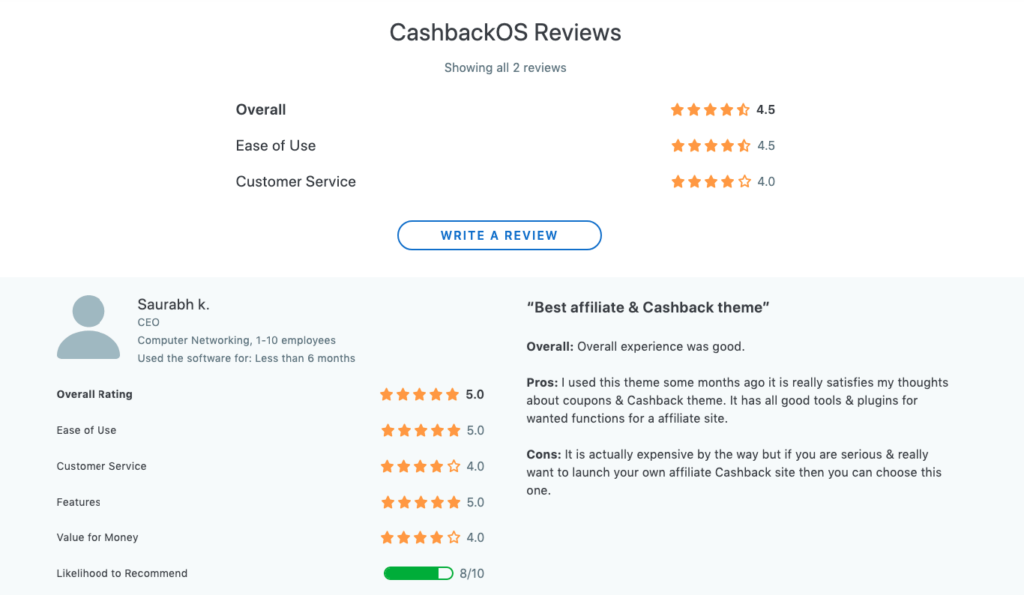 View all reviews of CashbackOS at Capterra.
In addition, you can see the cashback websites, apps, and extensions made using CashbackOS here.
Conclusion #
From the comparison above, it looks like CashbackOS can be a suitable choice for anyone looking to start an affiliate business or can go with Laraback for a more advanced and scalability advantage.
But, if have a tight budget and can compromise on quality and enhancement, of course, go with the other clone cashback solution.
Request a quote for CashbackOS and start one step ahead on your affiliate business journey.