Charity Cashback Software
FundBack – Fundraising Donation Cashback System
The FundBack enables shoppers to donate cashback earning to their preferred charities. Listing of stores, coupons, offers with branded charity pages, the FundBack is perfect business solutions for startup. Most of the operations are automated with various network API integration to create stores, offers, coupons, track donations along with email notification and many more…
Fundraising Charity Cashback System
Social entrepreneurship has been one of the most trending businesses. Now you can let millions of online shoppers grab the best coupons & offers to make their shopping affordable, and yet donate to their preferred charities for FREE. The fundraising cashback business model has been one of the niches with great success ratio.
FUNDBACK
Browse Charity Website Demo
Demo speaks louder than words. Explore the demo of the front-end, charity dashboard, and user dashboard to get more exact inside. Admin panel is on WordPress to mange front-end pages, whereas the donation activities are managed using admin panel developed using PHP Laravel.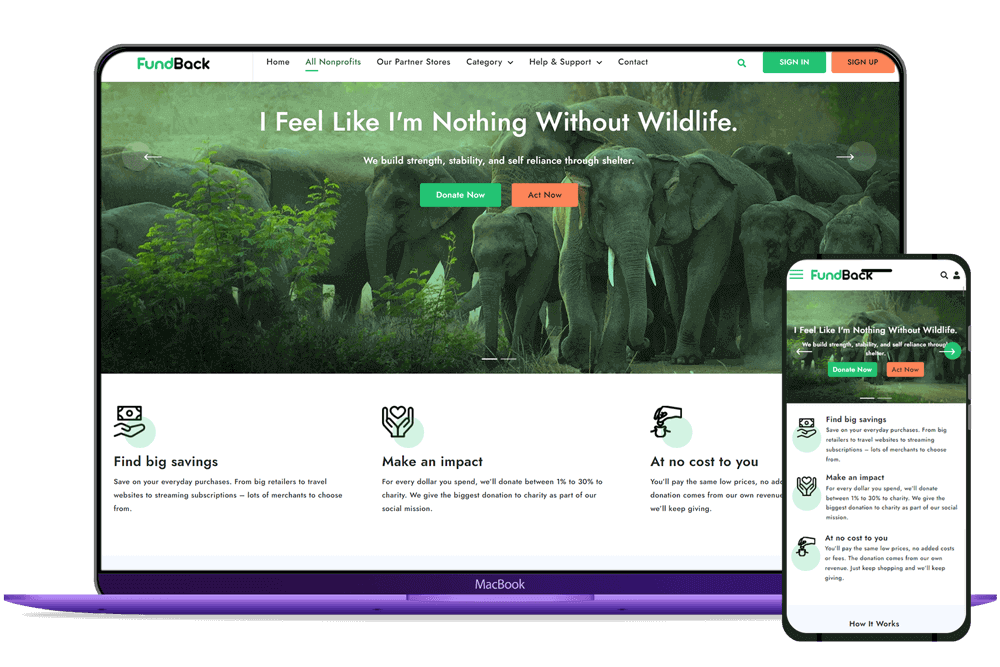 Benefits of Online Fundraising Donation Portals
Charity Cashback Solution Pricing
View Pricing
$1899 $2299
₹119500 ₹160000
Elegant, intuitive & immersive homepage

WordPress Gutenberg supports drag & drop layout for multiple blocks with multiple layouts for most of the block. Helps in creating unique layout without writing any code. Change the color scheme with few clicks from the admin panel.

Fundraising goal along with actual tracking

Instant cashback tracking with affiliate network configuration. Now track the cashback from unlimited networks. It will automatically update in charity dashboard and user dashboard.

A missing donation claim system

Let your users intuitively reports the missing cashback transactions by selecting the captured shopping trips and providing necessary details, thus, escalation to the network is eased with adequate information.

Fraud referral user detection

With our unique referral fraud detection, identify the users violating the referral rules and ban them to prevent the fraudulent earning.
Email notification

Keep your users updated with automated email notification for cashback tracked, status changed, payout requested, missing cashback ticket updated etc.

Social login

Apart from the form signup, let your users signup using the Facebook and Google account.

Listing of charities charities by causes

You can add as many charities you want and categorize with cause. A-Z filter to let your user find the best store to shop

Promotion tools

Promote your fundraising cashback system & support to raise the fund by sharing post on social media. Also, send bulk emails from the charity dashboard to raise funds.
Free Complimentary Add-ons
DigitalOcean VPS Setup

VPS configuration, security setup, development environment.

Cloudflare Setup

Website security enhancement by routing Cloudflare setup. Free plan is sufficient to being with.

SSL setup

Cloudflare free SSL setup with 12 months validity, if opted for CloudFlare setup
Business Email on ZOHO

Your branded domain name business email setup using ZOHO. Create 5 personal and 20 group email for FREE

SMTP Setup by MailGun, Sendinblue

System generated email sending setup using Sendgrid SMTP service with due domain verification. Free plan is sufficient to begin with.

Website deployment

Installation of various framework, setup various services and deployment of the API, website on the server
Affiliate Network Integration
$150 / per Network
₹9750 / per Network
Campaign API

To create merchants automatically

Coupon API

To create coupons automatically

Available Affiliate networks

We provide integration with all top best affiliate network.

Click here

to see the list.
Commission Rate API

To create a cashback structure automatically

Sale Data API

Track sale transactions and award cashback automatically

Integration with New networks

Any new network integration at $150 per network subject to the compatibility study.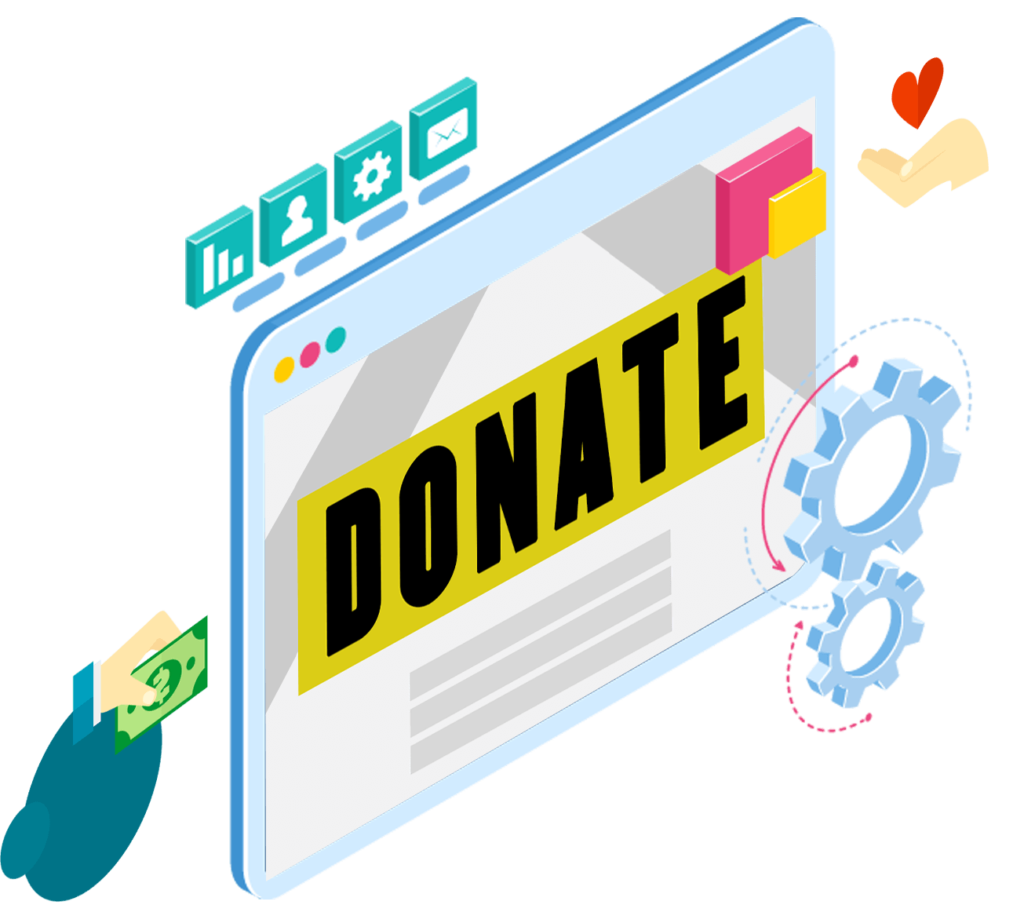 Automated Charity Donation for Good Cause
Right when the user selects the charity to donate, to shopping from the partner merchant, getting back the conversion data, keeping the conversion status synchronize with the affiliate network, information to the user & charities about the transaction, and so on is automated with cutting-edge technologies.
Charity Software Key Features
DIFFERENCE BETWEEN FUNDRAISING CHARITY CASHBACK AND TYPICAL CASHBACK WEBSITE
Fundraising Donation System
Cashback Browser Extension For Chrome & Microsoft Edge
Cashback reminder browser extension helps acquire and retain customers easily. Moreover, improve the conversion as every time user visits any merchant partner, it reminds users to activate the cashback and they can donate to respective charity and organization.
Opt for the apply coupon automatically add-on to let users get the maximum benefit of the promo code.
Click Here to know how to install the browser extension in your Chrome Browser.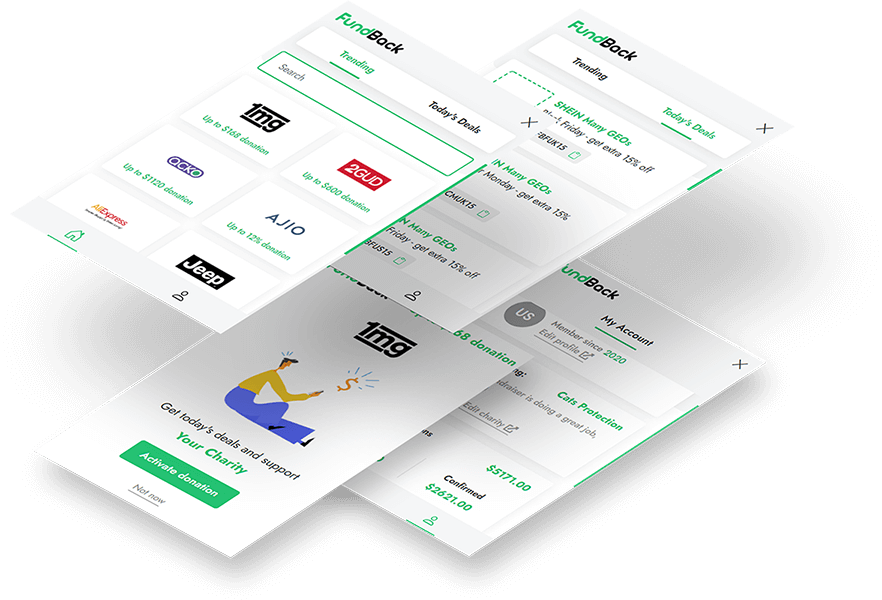 FAQs about charity cashback website