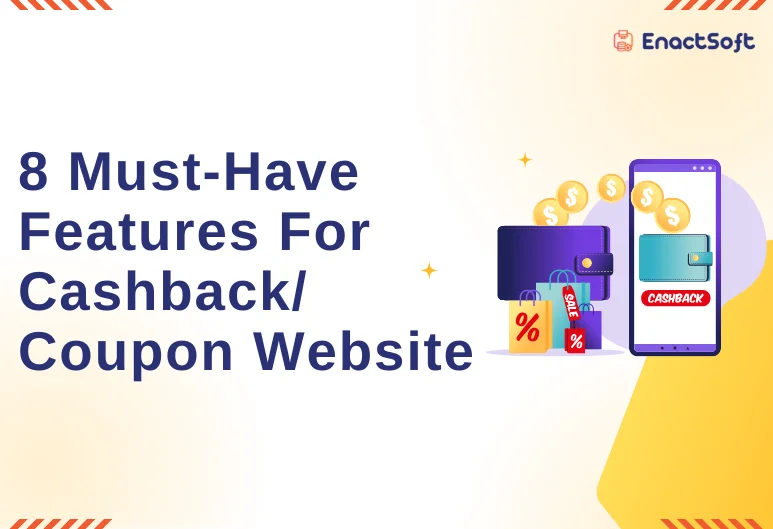 If you're looking to Start your own cashback website business but don't know much inside technicalities, you have landed in the right place.
Lots of young entrepreneurs face the same problem during the process of "Cashback/Coupon website development".
I am going to briefly discuss the top key features you must keep in mind during the cashback coupon website development, which will be the highly profitable fully automated cashback coupon website.
The affiliate Cashback Coupon industry is trendy, so we need to have a robust cashback website solution to compete and stand out in this environment.
Before we start with key features you must have in your cashback coupon website solution, let me share some figures important figures about the cashback industry as a highly lucrative business.
The Cashback Coupon industry is majorly based on E-commerce stores. Global E-commerce sales are expected to reach more than $6.5 trillion USD by 2023.
As many people purchase from E-commerce stores, it is more likely to believe in super growth in the cashback coupon industry.
Alone in India, the cashback and coupons industry is valued at over Rs. 500 crores and increasing. Also, India's e-commerce sector grows at an annual rate of 51%, which is the highest in the world.
There are many reasons apart from numeric figures to consider that the Cashback website is the best to opt for affiliate marketing.
You, me, and everyone always tend to look for cashback, coupon, and offer while shopping online.
As per the study, it is likely to be observed that once people get successful cashback from the respective website, they become loyal customers.
Loyal customers mean repeat customers. Therefore, It is a Win-Win situation for Cashback Website owners.
Let's discuss key features to consider during Cashback Coupon Development.
Key Features to Consider During Cashback/Coupon Website Development #
1. Refer & Earn with bonus and lifetime earning in %age #
It is good to have thousands of people promoting your brand (cashback website) and spreading awareness based on experience.
Therefore, it is important to have Refer & Earn features in your cashback website script. Customers will be happier to have cashback benefits by sharing with friends and family.
Also, it must prevent any misuse of the functionality by creating multiple fake accounts and claiming cashback. Reduce the risk of ruining the purpose of Referring and earning.
● EnactSoft cashback script #
Cashback development company like EnactSoft provides cookie-based refer and earn program, which can be promoted via social media, Email, SMS, etc. Just users need to fulfill the main 3 conditions below.
Verified Mobile Number.
The order must be placed through your website.
Must have $x as cashback balance (Set by Admin).
Refer and Earn promotion is highly attractive to new customers for your business.
● Other Script in Market: #
There's simple refer & earn which captures referrals when somebody clicks on those links. It's prone to be misused and hardly efficient in real life.
● Impact of this feature: #
You can run Refer and Earn promotions without fear of being misused. Get thousands of real and genuine users on your website by offering an attractive referral bonus.
2. Auto-update Cashback Status #
Once the Customer places the order, the merchant or Affiliate network updates the order status as pending. After the merchant verifies the order, it is updated as confirmed. Finally, once the return period is over, it is set as validated, and then it is paid out.
These statuses must be updated in real-time for your customers to check their earnings and enable them with cashback withdrawals.
Your integration with the affiliate network and merchant needs to be so proper and automatic for customers' better shopping experience.
● Cashback website script: #
It takes care to keep all these statuses updated automatically in sync with those networks/merchants. No manual intervention is required.
● Other Script in the Market: #
Admin needs to manually update these statuses on each & every order either by CSV upload or manually.
● Impact of this feature: #
Delayed updation, wrong updation, and prone to bad user experience. Admin needs to be too vigilant every day to keep this updated.

3. Cryptocurrencies as Cashback #
Nowadays, crypto is a new trend for investors. Crypto enthusiasts are looking for ways to invest in cryptocurrencies.

If you can provide cryptocurrencies as cashback for shopping, your users can get free crypto coins and can transfer to their crypto wallet as well.
● CryptoCashback Script #
EnactSoft is the only cashback development company that has made a crypto cashback solution to reward crypto as cashback. Your users can see the latest crypto rate for the amount of cashback they earned.
CryptoCashback is the combined solution that allows your users to have cashback in crypto as well as traditional currencies. A wallet ID can be used to transfer crypto coins to the crypto wallet.
4. Easily Customizable user interface #
New innovative front-end designs are becoming a need to compete in the market. You have to keep customizing your website design for users with a better experience and better performance.
Isn't it good to be able to update and change front-end designs without knowing any coding or programming knowledge? Well, it is definitely possible for any non-techy person too.
● EnactSoft cashback script #
EnactSoft is providing your choice WordPress theme-based cashback script website solution, which is seamlessly integrated with WordPress. You might be knowing that WordPress is known for its easily customizable strength without knowing any coding knowledge.
I am sure that you don't like to contact your developers for every small change.
In addition, EnactSoft Cashback Script is developed in such a way that you can migrate it to another website/user interface in the quickest way.
You will get 100% editable source code so you can customize it on your own too.
● Other scripts in the market #
Almost all scripts available in the market are built on cheap clone script development and it requires technical coding and programming knowledge to customize even tiny features.
Most scripts are encrypted for customization, hence, you need to contact the developer for every small change.
● Impacts of this feature #
All affiliate business owners faced so much difficulty to customize without programming knowledge and encrypted scripts prevent you to customize without support from those script providers.
But now, the EnactSoft script is developed in such a way that you can migrate to other websites/user interfaces easily and quickly.
5. Automated Tracking #
The cashback website tracks every cashback data with the help of an Affiliate network. Your Cashback website must be properly integrated with the affiliate networks. So, all data are synchronized automatically without any delay in tracking cashback to customers.
Your "Cashback Script" must capture all data and outgoing clicks.
EnactSoft is the best choice for network integration.
● Cashback website script: #
EnactSoft developed a cashback script that captures all outgoing clicks. It is tightly connected using RestAPI with all leading affiliate networks & merchants viz;
Flipkart Direct
Snapdeal Direct
eBay Direct
Admitad
Optimize Media Group
Commission
Payoom
ConversionX
ClickOnik
iCubesWire
DGM
The above list covers 100% of monetizable merchants including, but not limited to Myntra, Jabong, Paytm, MakeMyTrip, Yatra, Oyo Rooms, Rediff, Shopclues, ClearTrip, ixigo, and hundreds more.
● Other scripts in the Market: #
As per our study, they have either none of the integrations available or if at all there, then, it's only with has offer platforms.
● Impact of this feature: #
You need to export CSV from these multiple sources every day, or multiple times a day. Format the CSV file as per their sample CSV and then import it.
Due to this, the tracking of cashback takes time and user experience is hampered, prone to mistakes, and causes havoc to users. Moreover, it's challenging to keep track of everyday status updates for past orders.
6. Smart Cashback calculation #
The cashback structure varies from category to category. There are basically 2 types of cashback. One is Flat cashback and another is %age cashback.
The problems for cashback website owners are to keep changing different offers globally and during seasonal sales. Therefore, there might be smart cashback calculations for website admin.
● Cashback script #
Just set how much % of your earnings you wish to pass on to customers at one place. Automatically, the script will take care of all calculations smartly and award cashback to users accordingly.
How does the smart cashback calculation work? #
Let's understand with an example.
Consider that Amazon is offering a 10% Affiliate commission on the sale of a woman's T-Shirt. A customer placed an order worth $50 and you're getting $5 as commission. Now, you want to pass $3 as cashback to your customer so you will set 60% as the cashback amount to be passed on to the customer.
The script calculates automatically the cashback amount and shows $3 to the customer.
This feature makes your system dynamic and even if you miss updating the structure at the time it won't affect your profit.
● Other Script in the Market: #
In no relation to what commission you get, you need to mention either a flat amount or % of the sale amount to pass on to the customer as cashback.
This may lead to more cashback being passed on to customers than what you might get if set improperly.
You need to keep track of every commission structure change and keep these settings updated in real-time to prevent loss.
Moreover, mostly these settings are not back-compatible and any change also affects all past transactions in most scripts available in the market.
● Impact of this feature: #
This is very crucial when merchants are frequently changing their commission structure. Most scripts are not capable to handle dynamic changes in commission % or amount.
Enactsoft cashback script with smart cashback functionality is developed in such a way that any change with commission doesn't affect your profit even if you miss updating the structure on time.

7. Email Alerts #
You need a strong automatic email system to update every customer about their cashback, tracking updates and status, missing cashback inquiries, and referral system performance.
You can import customers' emails through the signup newsletters. Also, provide limited-time offers through email too. It is highly effective to get more repeat customers.
● EnactSoft cashback script #
EnactSoft provides a dedicated email alter feature in the cashback solution. Also, you will get free thousands of emails to send to your customers to target them on festivals or when promo week is ongoing.
Your customers can also claim missing cashback requests through emails.
● Other cashback scripts #
No proper integration with email services or alters on time when they get cashback or no tracking of their cashback.
● Impacts of this feature #
Users now can track their cashback automatically. Easily reach out to the customer support team to claim cashback if missing. They get notified every time when there is a promotion ongoing. It encourages and enhances the shopping experience of users.
8. Fraud User Detection #
Your cashback website must have a feature to prevent fraud users from registering multiple times.
● EnactSoft cashback script #
EnactSoft provides various modules to prevent fraud users from registering the same IP address and harming the healthy ecology of the refer and earn program.
OTP verification is the best option to restrict the same user from registering and taking unauthorized benefits. In addition, SMS API provides thousands of SMS bundles which is great for a start-up.
● Other Script in Market: #
There's no control over multiple users logging from the same IP and mobile verification is not being done at all.
● Impacts of this feature #
Run your website with maximum genuine users and improve the overall user experience by giving them a higher reward for being genuine.
Moreover, SMS sending API provides a 25000 SMS bundle for free which is great for startups.
Conclusion #
For a profitable start-up, there are eight features that must be included in a fully automated and efficient cashback coupon development solution.
There are various other things you must know before you start developing your cashback website. Your start-up will always need strong support operations, which will help your website drive into a proper environment.
As of now, all cashback startups faced challenges and problems mostly during the initial set-up. I would suggest you opt for a development company like EnactSoft which is having the best-experienced development team.
EnactSoft is having experts working with the affiliate and cashback coupon industry overs years and understands the business very well.

Check out the demo website of the EnactSoft cashback script here.