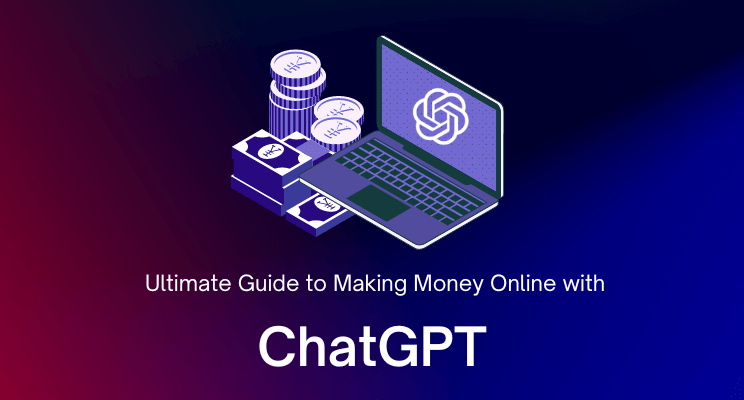 Generating income online is a well-liked technique for many people to support their income or earn a living. With the development of AI, there are more opportunities than ever before to profit from language models like ChatGPT.
We will look at some of the methods in this article that you may use ChatGPT to make money online in 2023.
What is ChatGPT? #
Large-scale language model ChatGPT was created by OpenAI. It is built on the GPT (Generative Pre-trained Transformer) architecture, a class of neural network that is capable of producing content that resembles that of a human.
It may be incorporated into many different applications, including chatbots, language translators, and more, and is a powerful tool for content production, research, and analysis.
Different ways of earning money online via ChatGPT #
Content Creation : content creation such as maintaining a blog or making YouTube videos, is one of the most well-liked methods of making profit online.
Users can get help from ChatGPT in producing top-notch content for their websites, blogs, and social media platforms.
It may provide unique, engaging material on a range of topics that can be used to increase website traffic and increase online sales.
Copywriting: Producing original and appealing content ,ChatGPT can be taught to recognise a brand's voice and aesthetic, and it can produce original and captivating material that fits the brand's voice and message.
Writing search engine-friendly headlines, taglines, product descriptions, and blog articles can also be helpful.
ChatGPT can examine data and utilise natural language processing to determine which words and phrases are more likely to convert.
This understanding may be used to assist writers create material that is intended to convince and turn readers into customers.
Chatbot development: By providing a strong artificial intelligence model that can be taught to understand natural language and respond to user inputs in a wise and human-like manner, ChatGPT can help with chatbot creation.
It may help users create chatbots that can understand and respond to a range of inputs, increasing their efficiency in responding to client inquiries, providing support, and automating tasks.
Additionally, ChatGPT may be used to enhance chatbot accuracy and performance over time, which can serve to boost user happiness and enhance overall performance.
Language Translation: ChatGPT can support with language translation by utilising its highly developed natural language processing capabilities.
It has the ability to convert text from one language into another while acknowledging and evaluating the original material.
It helps to promote communication and understanding between many languages and cultures by giving users accurate and fluent translations in a couple of seconds.
Moreover, ChatGPT gives users the ability to identify and remedy translation errors, enhancing the accuracy and validity of the translation. It might be trained on certain language pairs, like English and Spanish, to provide even better translations.
Virtual Assistance: Virtual help, which is delivering administrative or technical support to firms and entrepreneurs remotely, is another option for passive income.
Users may utilise ChatGPT as a virtual assistant to help them run their online enterprises. It can help users with tasks like keeping an eye on social media profiles, scheduling appointments, and offering customer assistance.
Another way to get extra income is through virtual help, which is the provision of administrative or technical support to businesses and entrepreneurs remotely.
Social Media Management: By supporting users with tasks including uploading and scheduling content, responding to inquiries and comments, analysing statistics, and creating social media strategies, ChatGPT may help users manage their social media accounts.
Considering that ChatGPT may enable in lead generation, brand recognition, and locating and communicating with new customers, it is a great tool for managing social media presences.
E-commerce:E-commerce, which involves offering goods or services online, is a different approach to earn money online.
ChatGPT provides solutions to users in the setup and management of online stores. This tool can be used by users who require help with activities like product research, product listing, or customer service.
For instance, if you're considering starting an online store, ChatGPT can help you do fruitful product research.
Also, it may help you sell your goods on various e-commerce websites like Amazon or Etsy and with customer support tasks like responding to queries and processing orders.
In order to assist you enhance your company plan, ChatGPT can also help you manage your inventory and track your sales.
Online surveys: ChatGPT can help people complete online surveys and get paid for doing so. Users can use it to quickly and effectively identify surveys that are relevant to their interests and round them out.
Affiliate Marketing: Another option to generate money online is through affiliate marketing, which is promoting goods and services through links to third parties and getting paid a fee for each purchase.
Through affiliate marketing, ChatGPT may help users promote goods and services. affiliate programmes that are in line with their interests, and create original content to market the goods.
Integrate with other systems: Integrate ChatGPT with other systems such as your e-commerce platform, affiliate marketing platform, and customer relationship management system.
This will allow ChatGPT to access customer data and sales information in real-time, enabling it to generate more accurate and personalized responses.
Test and monitor: Test the chatbot with a small group of customers, and monitor the performance of the model by checking the accuracy and relevance of the responses generated. Use this feedback to improve the model further.
Track and analyze customer behavior: Use ChatGPT to track and analyze customer behavior, such as which products they are interested in, how they engage with the affiliate program, and how they respond to different offers. This information can be used to optimize the affiliate program and improve the customer experience.
Provide incentives: Provide incentives such as bonuses or rewards to customers who sign up for the affiliate program through the chatbot.
Regularly update the model: With time, the model will become less accurate due to changes in the market, customer behavior and new products, so it is important to regularly update the model with new data and fine-tune it to ensure that it continues to perform well.
How much money can anyone expect to make online? #
The length of time it takes to begin earning money online with the facilitate of ChatGPT is difficult to predict because it depends on a number of variables, including the particular business or venture you are pursuing, the amount of time and effort you are willing to invest, and your level of experience and expertise.
However, it is possible to start seeing a return on investment in a rather short amount of time with a clear grasp of the market and a well-executed strategy.
Conclusion #
In summary, ChatGPT might be a useful tool for anyone wishing to earn money online without any prior expertise or training. It may help users with a variety of chores and enable them to boost their online income.
FAQ #
How can students use ChatGPT to make money online? #
The easiest approach for any student to make money online without sacrificing their studies is through content creation. The educational niche is open to student content creation.
How does ChatGPT assist in making money with little to no investment? #
you can use ChatGPT to generate high-quality content for your blog or social media channels, which can be monetized through advertising or affiliate marketing.
Is ChatGPT is helpful for Affiliate Marketing? #
Affiliate marketers can better understand client preferences and enhance their marketing strategies by using ChatGPT's customer data collection and observation capabilities.
How does Chatgpt support the cashback system's marketing tactics? #
ChatGPT may be a key component of the Marketing Strategies for websites that provide cashback coupons.
Social media networks may be incorporated with the chatbot, making it simple to reach the intended audience.
Customers may interact with the chatbot by asking inquiries, getting answers on sales and cashback, and getting help with coupons. Furthermore, ChatGPT's sophisticated natural language processing capabilities may be used to provide tailored recommendations and offers to consumers, boosting engagement and retaining them as clients.
Additionally, the chatbot may gather information on consumer preferences and behaviour, enabling more efficient and specialised marketing efforts. ChatGPT can assist cashback coupon websites boost marketing initiatives, promote sales, and increase consumer engagement and loyalty.
How ChatGPT Drives Ecommerce Conversions? #
ChatGPT can rise ecommerce conversions by offering real time support and personalised recommendations to customers.
ChatGPT can understand customer queries and also provide relevant responses using natural language processing and machine learning algorithms, assisting in acknowledging any concerns or questions they may have about products.
Are there any legal issues to consider when using ChatGPT for online entrepreneur? #
Copyright infringement: It's crucial to make sure that the content you produce with ChatGPT is unique and free of plagiarism. It is prohibited and may result in copyright infringement to use or duplicate another person's material without their consent.
Misrepresentation: It's crucial to make sure that the information presented is correct and not deceptive while utilizing ChatGPT to market goods or services. Misrepresentation might lead to legal action and ruin the reputation of the brand.
Privacy: It's crucial to make sure that personal information is gathered and utilised in compliance with the law while utilizing ChatGPT to gather data from consumers or clients.
This entails getting permission before collecting and using personal information, as well as safeguarding the data from unlawful access or use.
Appropriate use: When utilizing ChatGPT to produce and share material, it's crucial to make sure that no one else's copyright, trademark, or other intellectual property rights are being violated. It's crucial to confirm that your content is not offensive, unlawful, or defamatory.
Integrity: It's crucial to be upfront with your audience about the fact that material published by ChatGPT was created by an AI. By doing this, you'll be able to preserve the content's authority and enlighten your audience.