Introduction #
In the fast-paced world of digital marketing, affiliate tracking platforms have become vital tools for businesses aiming to optimize their marketing efforts and increase their ROI. But with a multitude of options available in the market, which platform truly stands out? In this discussion, we're diving deep into a comparison between two leading affiliate tracking platforms – Tapfiliate vs RedTrack.
Both platforms have carved their niches and have been widely recognized for their robust feature sets and reliable performance. But the question remains – which one truly edges out the other and offers superior functionality and value to its users? This exploration aims to provide you with a comprehensive understanding, assisting you in choosing the best affiliate tracking platform that perfectly aligns with your business needs. Let's delve into the Tapfiliate vs. RedTrack showdown and uncover the ultimate affiliate tracking solution!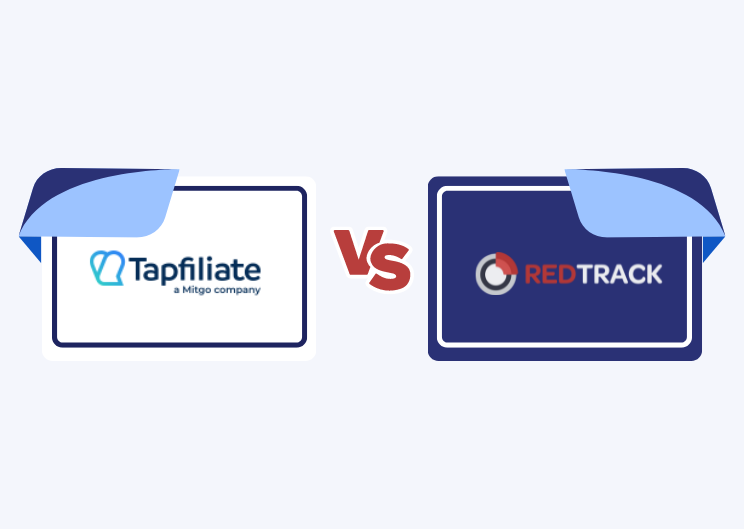 Tapfiliate – Tapfiliate is an innovative affiliate tracking software designed to simplify and optimize your affiliate marketing efforts. With the Tapfiliate affiliate program, you can easily set up and manage your affiliate platform software, track conversions, and reward your affiliates for their performance.
| | |
| --- | --- |
| Pros | Cons |
| 🟢 Easy to use | 🔴 Can be expensive |
| 🟢 Wide range of features | 🔴 Not as customizable as some other platforms |
| 🟢 Good customer support | 🔴 No lifetime commissions |
RedTrack – RedTrack is a comprehensive affiliate tracking platform that offers advanced features to streamline and optimize your affiliate marketing campaigns. With its user-friendly interface and powerful tools, RedTrack.io empowers businesses to effectively track, analyze, and optimize their affiliate activities.
| | |
| --- | --- |
| Pros | Cons |
| 🟢 Affordable | 🔴 Not as easy to use as some other affiliate tracking platforms |
| 🟢 Highly customizable | 🔴 Lacks some features that are available on other platforms |
| 🟢 Good customer support | 🔴 A smaller network of affiliates |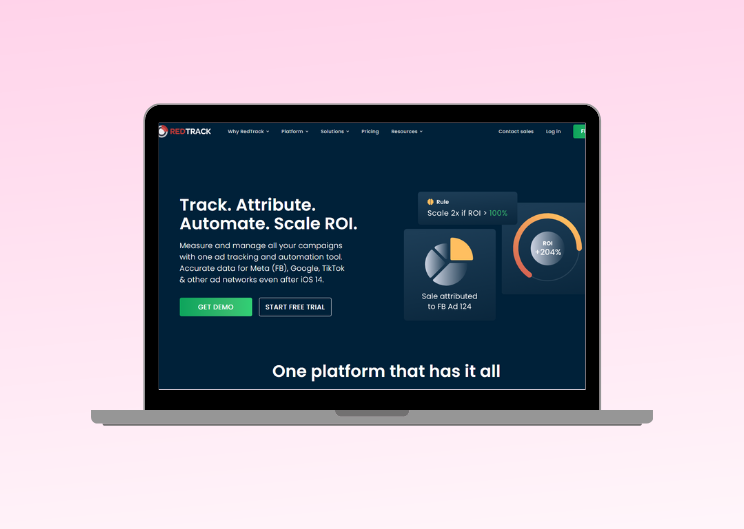 How Do RedTrack and Tapfiliate Increase Affiliate Revenue? #
➞ Tracking: Both systems keep tabs on affiliate activity including clicks, purchases, and conversions. Businesses may track the effectiveness of their affiliate marketing programs using this data and find the most productive affiliates.
➞ Reporting: Both systems offer thorough reports that provide information on affiliate performance. These studies assist companies in locating the best affiliates and tailoring their marketing strategies accordingly.
➞ Payouts: By enabling automated commission payouts to affiliates, both Tapfiliate and RedTrack streamline the payment procedure and guarantee prompt payment.
Both platforms have a variety of affiliate tracking platforms, e-commerce systems, CRM systems, and marketing automation technologies that they can link with. As a result, data flow is frictionless, and campaign management is improved.
The ability to set up fixed or tiered commissions is provided by both systems' extensive choices for commission administration. They also accept per-click payment schemes, offering a variety of compensation structure options.
Affiliate network administration is made simple with capabilities from Tapfiliate and RedTrack. Companies may set up and administer affiliate programs, monitor performance indicators, and make payments to affiliates.
➞ Marketing initiatives: Both platforms give companies the ability to plan and execute successful affiliate marketing initiatives. In order to gauge the success of campaigns, they provide bespoke affiliate link creation, campaign performance tracking, and report generation.
Businesses may use Tapfiliate and RedTrack's features and capabilities to optimize their affiliate marketing efforts and increase income from their affiliate programs.
Which Affiliate Tracking Platform is Better for You? #
The best affiliate marketing software platform for you will depend on your specific needs and budget. Tapfiliate is a wonderful alternative if you're searching for a user-friendly platform with a variety of features. If you are looking for an affordable platform with good customer support and high customization options, RedTrack is a good option.
Here is a table that summarizes the key differences between Tapfiliate and RedTrack:
| Feature | Tapfiliate | RedTrack |
| --- | --- | --- |
| Price | Starts at $89/month | Starts at $149/month |
| Network size | Large | Smaller |
| Tracking features | Basic | Powerful |
| Reporting features | Strong | Advanced |
| Commission structures | Fixed, tiered, per-click | Customizable |
| Lifetime commissions | No | Yes |
| Recurring Payment | No | Yes |
| White-labeling | Yes | No |
| Ease of use | Easy to use | More complex to use |
Tapfiliate and RedTrack's affiliate tracking Solutions for Multi-Level Marketing #
Tapfiliate and RedTrack are two different companies that offer affiliate tracking solutions for multi-level marketing (MLM) businesses.
Tapfiliate is an affiliate marketing platform that helps businesses find and onboard affiliates, track their performance, and pay them commissions.
RedTrack is a web analytics tool that aids companies in monitoring affiliate marketing programs, website traffic, and sales.
Overall, affiliate platform software can be a valuable tool for MLM businesses. By using these two affiliate tracking platforms together, businesses can find and onboard affiliates, track their performance, pay them commissions, and improve the performance of their MLM business.
How Tapfiliate and RedTrack Are Revolutionizing Affiliate Tracking Platforms? #
Advanced Tracking Technology:
Tapfiliate affiliate program and RedTrack leverage advanced tracking technology to provide businesses with accurate and reliable affiliate tracking. These affiliate tracking platforms utilize sophisticated algorithms and tracking methods to capture essential data points such as clicks, conversions, and sales.
Cross-Device Tracking:
Affiliate platform software i.e. Tapfiliate and RedTrack excel in this area by offering cross-device affiliate tracking solutions. They employ sophisticated techniques like fingerprinting and device recognition to connect user interactions across different devices seamlessly.
Enhanced Attribution Models:
These platforms go beyond traditional last-click attribution and provide businesses with a range of attribution models. These models, such as first-click, linear, and time decay, offer businesses the flexibility to assign credit to different touchpoints along the customer journey.
Real-Time Reporting and Analytics:
These platforms offer robust reporting and analytics features that provide businesses with real-time insights into their affiliate marketing campaigns. Real-time reporting empowers businesses to monitor their campaigns closely, identify trends, and optimize their strategies to maximize results.
Integration Capabilities:
These platforms offer integrations with popular e-commerce systems, content management systems, ad networks, and more. The integration capabilities enable businesses to synchronize affiliate tracking data with their existing marketing infrastructure, streamlining operations and facilitating comprehensive campaign management.
Automation and Workflow Optimization:
Both affiliate tracking solutions streamline the affiliate tracking process through automation and workflow optimization features. By automating repetitive tasks, businesses can save time and focus on strategic aspects of their affiliate marketing software efforts.
8 Signs You're a Tapfiliate Vs Redtrack Expert #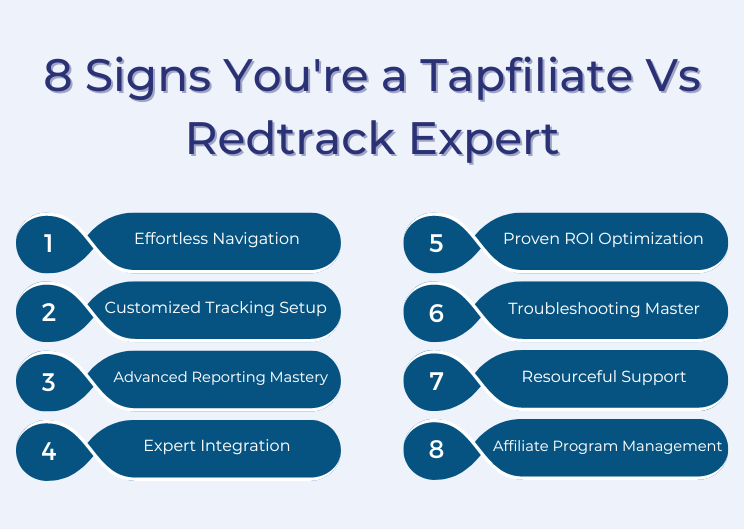 Conclusion #
So, whether you tap into the user-friendly elegance of the affiliate tracking platform or track your way to success with the advanced capabilities of RedTrack, rest assured that both platforms can catapult your affiliate marketing efforts to new heights. Choose the one that aligns with your needs, master its unique features, and witness the exponential growth of your affiliate endeavors. It's time to make your mark in the affiliate marketing campaign landscape with Tapfiliate or RedTrack as your trusted companion.