Introduction #
In 2023, are you prepared to maximize the effectiveness of your affiliate marketing campaigns? Get ready for an exciting comparison between Tapfiliate or AffiliateTrack, two prominent affiliate monitoring software programs in the market. Staying ahead of the competition in the constantly changing world of affiliate marketing necessitates a strong monitoring system that offers precise data, smooth connections, and potent features.
We'll go in-depth on Tapfiliate and AffiliateTrack in this article, showcasing their best qualities, functionalities, and advantages. This comparison will assist you in selecting the finest affiliate tracking program for your requirements, whether you are an experienced affiliate marketer or are just beginning your adventure. It will also put you on the right route for experiencing unheard-of success in the affiliate marketing environment of 2023.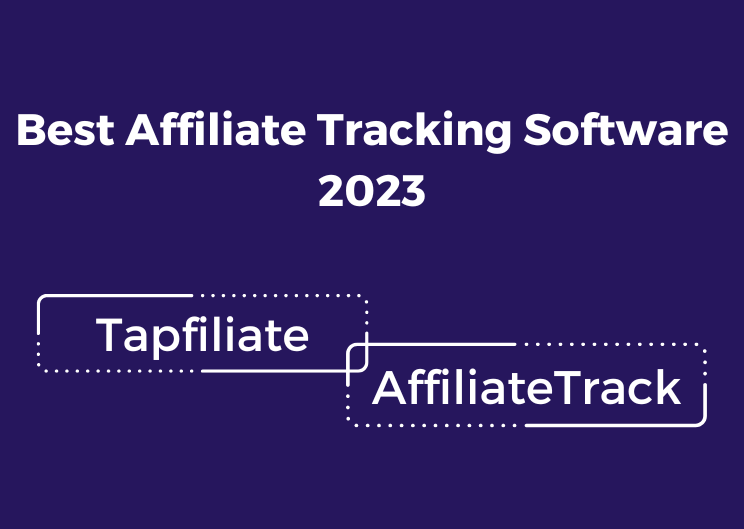 Tapfiliate #
Discover the power of Tapfiliate, the leading affiliate network tracking software designed to simplify and enhance your affiliate stripe efforts. With its user-friendly interface and seamless integrations, Tapfiliate provides affiliate tracking tools and insights to drive revenue and establish successful affiliate platform partnerships.
| | | |
| --- | --- | --- |
| Features | Advantages | Disadvantages |
| User-Friendly Interface | Customizable and intuitive interface | The dashboard interface can be improved |
| Seamless Integration | Integrate with Zapier or an automated marketing tool | Limited Reporting Features |
| Pricing and Free Trial | Get a free 14-day trial | The learning curve at the beginning |
| Calculation and Commission | Excellent value for money | Manual Commissions Calculation |
AffiliateTrack #
With your very own in-house affiliate network tracking software, you can unleash your independence without having to pay for expensive subscriptions. You can get top-tier commission rates and increase your earnings like never before by working directly with well-known brands and e-commerce merchants. You can take advantage of cutting-edge features like instant S2S postback for effortless affiliate conversion tracking on our advanced, fully automated end-to-end affiliate platform.
With our extensive reports and cutting-edge data analytics, you can stay informed and make decisions based on performance. Experience the freedom of proprietorship and open the maximum capacity of your partner advertising attempts. Express goodbye to excessive memberships and welcome another time of control, benefit, and achievement.
| | | |
| --- | --- | --- |
| Features | Advantages | Disadvantages |
| Time-saving | Automated invoicing streamlines the invoicing process, saving time and effort compared to manual invoicing methods. | Setting up automated invoicing may require initial configuration and integration with existing systems, which can be complex. |
| Intuitive and easy-to-use interface | User-friendly Interface | Limited customization options |
| API & S2S Postback | Real-time data synchronization | Dependency on external systems |
| Seamless Integration | Integrate easily with a simple copy-paste JavaScript code and make small tweaks on the server side. | Limited customization of the affiliate platform structure |
Can AffiliateTrack and Tapfiliate handle high traffic and scale as our affiliate platform grows? #
As two of the top affiliate monitoring programs, AffiliateTrack and Tapfiliate can scale as your affiliate program expands and handle large traffic. These affiliate systems provide scalability and the capacity to manage enormous amounts of data thanks to their cloud-based architecture. Since they have a proven track record of availability and performance, your expanding affiliate network tracking software will operate without a hitch.
Here are some other suggestions to help you scale your affiliate program successfully:
Start small: Begin with a manageable number of affiliate stripes to effectively track and monitor their performance as you kickstart your affiliate marketing software programs.
Create precise goals: Indicate the objectives for your affiliate marketing software programs. Having specific objectives will direct your plan, whether it is for website traffic, lead creation, or increased sales.
Select the right affiliates: The best affiliates to work with are those whose target market is compatible with your products or services and whose affiliate network has a good reputation. Effective involvement and promotion are therefore guaranteed.
Give outstanding assistance: Keep your affiliate software satisfied by offering prompt and reliable support. Address their queries and concerns promptly, maintaining a positive and productive relationship.
Timely commission payments: To keep your affiliate program motivated, make sure compensation payments are made on time and accurately. You show your dedication to their achievement by consistently meeting your financial responsibilities.

Track and analyze results: Regularly monitor and analyze the performance of your affiliate conversion tracking program. This data-driven approach allows you to identify what's working and make necessary adjustments for continuous improvement.
By following these guidelines and leveraging the capabilities of AffiliateTrack or Tapfiliate, you can confidently scale your affiliate platform while maintaining high performance and maximizing your success.
How do AffiliateTrack and Tapfiliate handle affiliate fraud detection and prevention? #
Various elements in AffiliateTrack and Tapfiliate's affiliate network tracking software can assist in identifying and stopping affiliate fraud. These qualities consist of:
➞ Algorithms for detecting fraud: Both affiliate conversion monitoring systems make use of fraud detection algorithms to spot questionable behavior, including clicks from automated programs or affiliates with high click-through rates but low conversion rates.
Both affiliate monitoring solutions additionally employ a group of human reviewers that manually go through all affiliate software activity in order to check for indications of fraud.
➞ Reporting: In order to spot dubious tendencies, both affiliate platforms offer thorough information on affiliate stripes' behavior.
Both AffiliateTrack and Tapfiliate, affiliate network tracking software, may assist companies in identifying and preventing affiliate fraud by combining these capabilities.
Why AffiliateTrack is the perfect Tapfiliate alternative? #
When it comes to choosing the best affiliate tracking software, AffiliateTrack emerges as a compelling alternative to Tapfiliate. Here are some key reasons why AffiliateTrack stands out as the perfect choice:
Complete Control: With AffiliateTrack, you have full control over your affiliate marketing software programs. Unlike Tapfiliate, which is a cloud-based platform, AffiliateTrack is self-hosted, allowing you to deploy it on your server. This grants you complete control over the affiliate software, data, and customization options.
Cost-Effective Solution: While Tapfiliate offers pricing plans based on monthly subscriptions, AffiliateTrack operates on a one-time license fee. This means you can enjoy long-term cost savings without being tied to recurring payments.
Advanced Customization: AffiliateTrack goes above and above with customization. You can modify the program to meet your unique business requirements with complete access to the source code. AffiliateTrack offers unmatched versatility, whether it's customizing the affiliate conversion tracking procedure, creating the user interface, or connecting with other systems.
Seamless Integration: Integrating with common e-commerce platforms, content management systems (CMS), and other third-party applications is straightforward with AffiliateTrack. This guarantees easy data transmission and makes it possible for you to easily use your current technological stack.
Enhanced Security: You have entire control over the security of your data by hosting AffiliateTrack, the finest affiliate tracking software, on your server. This adds another line of defense against any security lapses or data weaknesses.
Robust Tracking and Reporting: AffiliateTrack provides in-depth affiliate conversion monitoring and reporting features that let you keep track of affiliate stripe activity, track conversions, and provide in-depth reports. The capacity to make educated decisions and optimize your affiliate marketing efforts for the greatest results is provided by this data-driven strategy.

Dedicated Support: If you have any technical questions or need assistance, AffiliateTrack's affiliate platform offers devoted customer support. The AffiliateTrack team is dedicated to a seamless and effective software deployment for your company.
Conclusion #
Navigating the vast array of Affiliate tracking tool options can be overwhelming, but the choice between the best affiliate tracking software i.e. AffiliateTrack and Tapfiliate is filled with promise. Each affiliate network tracking software brings its strengths to the table, offering distinctive features, powerful affiliate stripe capabilities, and seamless integration potential. If you crave complete control and the ability to customize every aspect, AffiliateTrack empowers you with its self-hosted solution.
On the other hand, Tapfiliate affiliate software embraces a user-friendly cloud-based approach, streamlining your experience. As you embark on this decision-making journey, carefully assess your specific needs, align them with the affiliate platform's features, and embrace the affiliate marketing solution that propels you toward unmatched success. The power is in your hands, so choose wisely and unlock the full potential of your affiliate marketing software program endeavors.