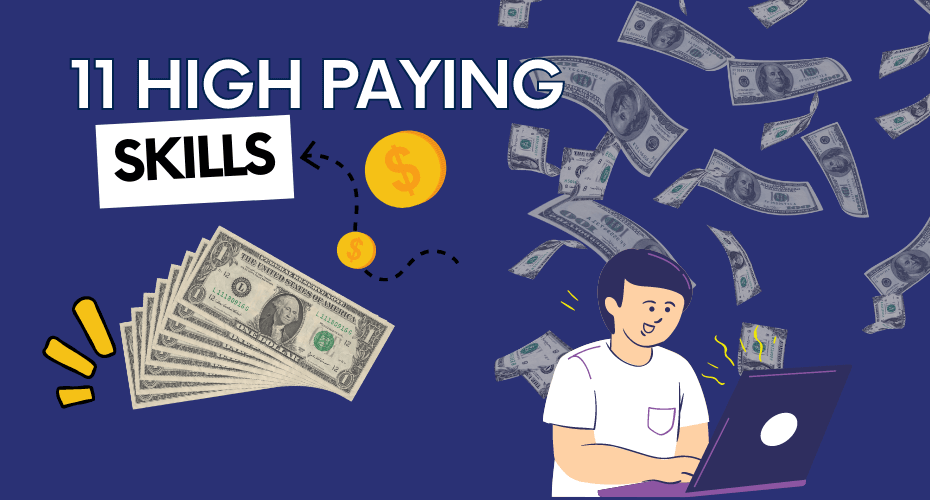 The best way to skyrocket your income is to learn high-paying skills. You could learn any of these skills that are in demand and earn huge returns for your investment.
The extra income will make you feel confident and independent. If you have extra savings, that means you can pay for unexpected expenses
If you're wondering how to make extra money from home, you have reached the right post. Here are some interesting high-paying skill ideas to know about.
Before we dive in, let's first understand what Passive Income really is and is not!
What are high-income skills to learn? #
If you want to make extra income, learning high-income skills can lead to a new career or supplement your current work. You could also use them to build your personal brand and create passive income streams that don't depend on a daily job. You could use this extra money to invest or travel the world.
What Are The Best High-Paying Skills To Learn for passive income? #
There are many high-income skills to learn, but which ones will give you the best financial rewards? In this article, we will discuss the key skills that can set you up for a solid passive income and allow you to earn passive income.
In this post, we'll cover 12 passive income skills that can help you earn extra money on the side, or even create a full-time income.
1. Learn Copywriting #
Are you looking for a way to make passive income online? You can use your copywriting skills to build a lucrative business. Get the knowledge and tools you need to make money writing copy on your own terms.
Copywriting is one of the most important parts of a website's success. If you are looking to make money online, it is important that your website has good-quality content in order to attract traffic and boost your sales.
2. Start Blogging #
Start a blog and transform it into your passive income machine. Blogging is one of the most popular ways to make money online, but it's not easy to start from scratch.
If you want to learn how to blog for beginners and turn your blog into a source of quality traffic, you're in the right place! Beginners can easily create a website and make money with AdSense or affiliate marketing programs while they continue their day jobs.
3. Video Editing #
If you are really passionate about video editing, then you can start building your portfolio through Fiverr or download some random videos from YouTube and edit them. This will help you to convert this hobby into an opportunity to earn extra income.
In today's digital age, mastering YouTube Affiliate Marketing is emerging as a high-paying skill. This strategy allows content creators to promote products on their channels, earning commissions for each sale made through their referral links. It's not just about ad revenue anymore; it's about building genuine trust with viewers by recommending products you truly believe in. By integrating affiliate marketing, YouTubers can diversify their income streams, ensuring they're rewarded for the valuable content they produce.
Many people have the skill to edit videos and can make some good money from it, but if you are new to this it can be difficult to know where to start. One way is to offer your services on Fiverr and get some clients who you can build a portfolio of work for.
Then use this portfolio to seek out others in the industry or even reach out directly to content creators on platforms like YouTube or Instagram who are always looking for editors, so that you can present yourself as a potential resource.
4. Graphic Designing #
You can earn passive income as a freelance graphic designer. All you need are creative ideas, the right tools, and an internet connection. Turn your creative skills into money-making opportunities with our infographic illustrating how you can earn actively as a freelancer.
Learn the capabilities important to become a professional in graphic layout. Start with basic talent development and enhancing software programs, like Adobe Illustrator, Photoshop, and InDesign.
Being a freelance picture dressmaker is an amazing way to earn passive profits due to the fact you may work to your personal schedule, set your personal expenses, and feature minimal overhead expenses.
5. Affiliate and CPA Marketing #
Affiliate advertising is one of the most cost-powerful methods to make money online. When you promote products on your blog or website, you ship humans to the product's internet site and after they purchase something, you get a commission.
There are one-of-a-kind types of associate packages, however, in general, brands provide commissions for each sale or lead that you generate.
A truly successful associate advertising business is constructed on relationships, not simply clicks. If you may grow to be the connector between the target audience you're building and the goods and offerings they want to be successful, you could supplement your earnings, and doubtlessly even make full-time earnings from your pointers.
Cashback coupon structures provide a win-win answer for both associate entrepreneurs and their customers. For customers, cashback coupons offer an incentive to make a buy, as they recognize they will obtain a percentage of their spending again in the form of a cashback reward.
This motivates them to buy from a specific shop or logo and allows them to build patron loyalty. For associate marketers, cashback coupons may be a powerful device for riding visitors and growing conversions. By presenting a cashback reward, they could attract clients who won't have in any other case made a purchase, and this will translate into extra income and higher commissions.
Additionally, the cashback reward system can help to build a relationship of trust between the affiliate marketer and their audience, leading to more repeat business and greater long-term success.
6. Storytelling #
As a Storyteller, you'll be telling stories through video, articles, pictures, and more. You will make money by telling these stories on your blog, Instagram page, or YouTube.
Stories are a great way to sell yourself, build relationships, and make more money. And now, it's easier than ever!
Learn how to create content that attracts returning customers and increases your revenue. Personal branding is all about creating a unique voice that will engage prospects and generate new business.You will make money by telling these stories on your blog, Instagram page, or YouTube.
7. Consulting #
Are you looking for a new way to earn income? Do you want to become your own boss? Then look no further.
Start a consulting business and have your own successful, flexible career as an independent contractor. Run your business from anywhere in the world with no set schedule, clients are local and global, so you can choose how much or little travel is right for you.
8. Content Marketing #
Are you looking for a way to make money in your sleep? Do you want to start passive income streams that can be running while you're sleeping or on vacation or while you're working another job?
Content marketing is one of the easiest and most lucrative ways to do exactly that. Here are 6 ways you can make money with content marketing.
Blogging
Becoming an Influencer
Affiliate Marketing
Web Content Writing
Copywriting
Create a Youtube channel
9. Building Personal Brands #
Personal branding is the practice of marketing people and their careers as brands. Appropriate personal branding allows you to define your personal brand values, understand how they fit into your employer's brand, craft a message that resonates with your target market, create an effective personal website, choose a professional social media presence, develop relationships with key influencers in your field and manage new contacts effectively through networking.
When you build your personal brand, you will be able to earn money from passive income from the business that you choose. It is a great way to earn extra income without having to spend too much time working on it.
10. Software Development #
As a software developer, you are able to earn money as a freelancer. You can create your own app and sell it online, or become a freelance developer working on projects for other companies.
Software developers can earn money as freelancers by consulting with clients and completing custom programming projects.
Freelance jobs vary widely — from providing tech support for a small business to designing a full-fledged application, there are many opportunities for freelance software developers.
11. UI UX designer #
You can make money as a UI UX designer by freelancing or working for a company.
As a freelancer, your job is to design/develop a website for your clients who pay you for every project.
Your earnings depend on how much each client pays you at the end of each project. So it's up to you what services and price tags you have in mind to attract clients.
FAQ #
Should I quit my job to pursue my dreams of financial freedom? #
This question has been asked by many people. You can earn passive income along with your ongoing job. The thing is if you have your working hours like 9 to 5.
This way in 24 hours you have to give 2 hours for your passive income niche. That way in 24 hours you have to give 2 hours for your passive income niche.
How can I learn skills for freelancing from home? #
You can learn skills for passive income from home by watching educational videos, plus you will have the opportunity to review programs and receive commissions from your affiliate links.
How do I start affiliate marketing, and how do I make money from it now? #
Affiliate marketing is a great way to start a home-based business. You don't need to invest in your own inventory, you just need a website where you can advertise products that you want to sell and commission on sales.
There are many different types of affiliates, many people use their blogs or social media by adding links back to the product they are promoting at the end of their article or post.
Cashback websites are a great way to make money online. Most of the time all you have to do is click on a few ads in order to receive your cashback, but you can also earn extra money when doing things like shopping or reviewing products.
Some sites will even let you see your actual bank account balance and transfer it directly into your checking if you need it.
How can someone develop self-learning skills, techniques, and processes? #
To develop self-learning skills, techniques, and processes, it is important to keep an open mind by making sure that you are open to learning new things and willing to be open about your experiences.
Self-learning also involves being comfortable with the fact that whatever information you are using could be wrong and should be interrogated.
How do I balance my side hustle with a full-time job? #
I balance my side hustle with a full-time job by planning out my week. I start each week with a to-do list that I prioritize into 3 main sections: work-related tasks, blogging-related tasks, and personal tasks.
The 'work-related task' section of the list contains all of my class assignments, course readings, and blog posts that need to be written for the week.
The 'personal task' section includes all things needed for my own personal life, such as laundry and grocery shopping.
By keeping track of everything in one place, like an excel spreadsheet or calendar, it helps me plan ahead so that if I have to stay late at the office one night, I can tell my roommate and ask her to pick up dinner after work instead of having to worry about food when she arrives home.
In a nutshell #
In this article, we've covered what "high-income skills" are and why they're important. We also discussed the benefits of learning a variety of such skills and how to choose those that best suit you.
Finally, we looked at some common high-income skills in the workplace today — including technical skills, soft skills, and leadership skills — and their value in the job market.
If you start working on these top skills, you can carve an excellent career for yourself, make money, and build a brand. And rest assured these competencies will remain popular for a really long time.
Keep building your personal brand, use online tools to showcase yourself, and invest time in learning new technologies.