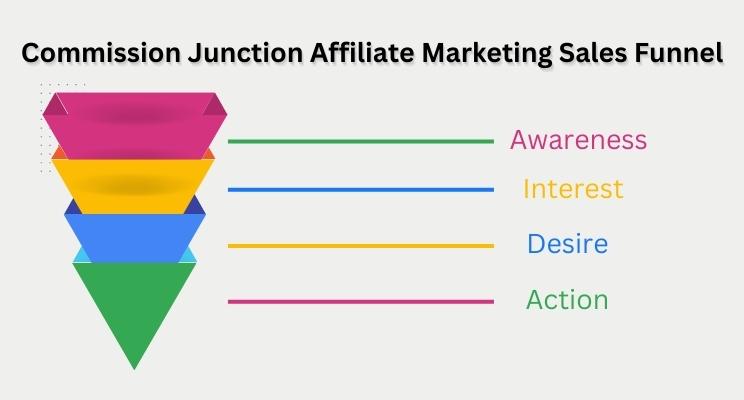 Commission Junction (CJ) is the world's largest affiliate marketing network, connecting marketers with affiliates who promote their products or services in exchange for a commission on any resulting sales.
Any marketer may increase their sales and profits by using an affiliate sales funnel.
This article will explain what an affiliate marketing sales funnel is and how it can be utilized to boost sales.
What Is An Affiliate Marketing Sales Funnel? #
In an affiliate marketing sales funnel, potential consumers move through a number of processes or stages in affiliate marketing sales funnel before making a purchase from the website of an affiliate marketer.
The affiliate marketing funnel's aim is to convert leads to customers from their earliest perception of a product or a service to the point of purchase.
What Is the Need Of Commission Junction Affiliate Marketing Sales Funnel? #
A special type of sales funnel called a Commission Junction affiliate marketing sales funnel is engaged to advertise goods or services through affiliate marketing.
It is required since it enables companies to expand their readership and boost returns on investment (ROI).
Businesses may advertise their goods to a wide audience and draw in new clients by utilizing the power of affiliates.
Importance Of An Affiliate Marketing Sales funnel. #
Affiliate marketers may raise their passive income and develop their businesses by using a well-designed sales funnel.
For various reasons, affiliate marketers require commission junction affiliate marketing sales funnel.
Increased conversions: #
When visitors are guided through a process that is designed for maximum engagement and sales, it can assist to enhance the conversion rate of visitors to customers.
Better targeting: #
By providing precise and useful information on every phase of the funnel, a sales funnel helps affiliate marketers to target their audience more, which might increase the possibility that they will complete a purchase.
Improved customer experience: #
An affiliate marketing sales funnel guides clients through a simple and structured approach, that could enhance their entire experience and enable them to return for future transactions.
Better tracking and optimization: #
Affiliate marketers may monitor the profitability of their activities and pinpoint areas for development by setting up a sales funnel.
This enables businesses to optimize their conversion rates over time and customize their funnel for better outcomes.
Stages For Commission Junction Affiliate Marketing Sales Funnel #
The steps of a Commission Junction affiliate marketing sales funnel may differ based on the product or service being supplied, the target demographic, and the affiliate marketer's goals.
The fundamental ideas of leading the consumer through the purchase process and boosting conversions, however, remain unchanged.
Awareness: At this phase, the potential buyer learns about the product or service that the affiliate marketer is providing. This may be done via a blog post, social media, email marketing, or search engines, among other things.
Interest: At this point, the potential customer takes interest in the goods or service and requests extra details.
They could go to the affiliate marketer's website, check out customer reviews, or do a pricing comparison.
Desire: The buyer indicates that they want to buy the product. They are now a warm lead, and the affiliate marketer may take advantage of this to develop credibility and trust by giving them more resources and information.
Action: The buyer indicates that they want to buy the product. They are now a warm lead, and the affiliate marketer may take advantage of this to develop credibility and trust by giving them more resources and information.
Follow-up: Following the sale, the affiliate marketer may maintain the connection with the consumer by promoting new goods or services, offering assistance and resources
Right Sequence Of Commission Junction Affiliate Marketing Sales Funnel #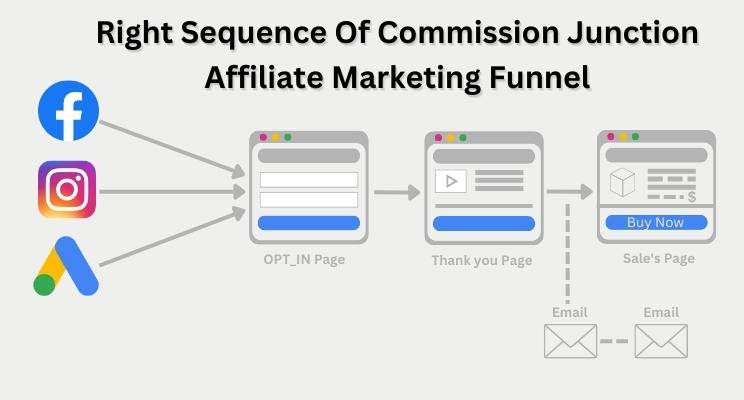 Opt-in page: An opt-in page is a marketing tactic that uses a lead magnet to turn people into customers.
Marketers apply this method to get more consumers to share personal information with them.
Analytics collected from such information enable businesses to engage with their target audience through high-quality, tailored email campaigns.
Thank You page: This page acts as a bridge between the opt-in page and the sales page. As per Google guidelines, you can not direct link your affiliate sales page to the opt-in page.
Sales Page: This is an affiliate offer page that is redirected by an affiliate link where users can make purchases.
How to build a commission junction affiliate sales funnel #
Step 1: Create Opt-in Page #
An opt-in page enables site visitors to choose to receive updates, news, offers, and other information from a website that might ultimately encourage them to engage in a two-way communication process.
However, once they've signed up, visitors could decide to withdraw, and you'll want to avoid this.
Opt-in pages vary depending on the market and the brand. Every business delivers a unique value proposition, requests a variety of data kinds in return for that value, and employs a unique communication approach.
Your opt-in pages should be optimized for your company objectives and have these three crucial components to ensure high conversion rates. You can create an opt-in page for free with HubSpot .
Step 2: Create Thank You page #
When a user completes a requested activity on your website, they are taken to a thank you page.
It is often displayed after site visitors convert to leads, such as when they make a purchase, fill out a form, or sign up for a service.
Order confirmation pages and messages are similar to thank you pages, but they are not the same. This distinction will be described in more detail later in this essay.
Step 3: Create a Sales Page #
Getting a lead to take the required action is the last stage in the Commission junction affiliate sales funnel.
A landing page might be quite useful in this approach. This kind of page's sole goal is to motivate visitors to convert.
A sales page is a crucial part of a sales funnel since it is here that a consumer decides whether or not to buy the product or service being promoted.
The probability of a transaction being made is increased by a well-constructed sales page, which may significantly impact the customer's purchasing decision.
How do you evaluate the efficiency of your Commission Junction affiliate marketing sales funnel? #
By collecting and comparing these statistics, you can receive better information about the productivity of your Commission Junction affiliate marketing sales funnel and make model-based decisions to improve your overall success.
Conversion Rates: The percentage of site visitors who actually make a purchase is known as the conversion rate, and it is one of the most crucial key performance indicators to monitor.
While a low conversion rate can suggest that there is space for development, a high conversion rate suggests that your sales funnel is operating properly.
Affiliate Performance: Commission Junction offers a dashboard through which you can analyze the progress of your affiliates.
You can check which affiliates are generating the most orders and which goods are bringing in the most money.
This data may be utilized to increase the effectiveness of your sales funnel and optimize your affiliate marketing approach.
Click-Through Rates (CTR): The CTR metric divides the number of clicks on your affiliate links by the number of impressions.
A high CTR means that your affiliate links are being seen and that your marketing messages are being heard by your target audience.
Return on Investment (ROI): ROI is an important indicator for measuring the profitability of your affiliate marketing proposals. Split your profits by your investment and multiply by 100 to estimate your ROI.
Customer Feedback: Customer feedback may give useful insights into the advantages and drawbacks of your sales funnel. This input may be used to develop and manage your marketing efforts.
What are some common mistakes to avoid when creating a Commission Junction affiliate marketing sales funnel? #
Not having a clear target audience: Lack of identity and understanding of your target group might result in poor marketing strategies and low conversion rates.
Ensure to precisely identify your primary audience and personalize your marketing messaging to their requirements and interests.
Neglecting the pre-sale stage: Many marketers just concentrate on closing the deal, yet skipping the pre-sale phase might result in a reduced engagement rate. Before attempting to achieve a deal, be careful to connect to your audience and develop trust with them.
Failing to optimize for mobile: Making sure your sales funnel is mobile-optimized is essential since more and more consumers are utilizing mobile devices to surf the internet.
This involves ensuring that your affiliate links and sales page are both simple to click on mobile devices.
Conclusion #
In conclusion, using the Commission Junction affiliate marketing sales funnel is a great approach for companies to make marketing strategies for expanding their customer base and boosting ROI.
Businesses may make data-driven choices to increase the economy and profitability of their affiliate marketing campaigns by monitoring the performance of affiliate marketers in real time.
The affiliate marketing sales funnel can help businesses identify pain points in the customer journey and make changes to the affiliate marketing process to increase conversion rates and generate more revenue.
FAQ #
1. What is the sales funnel formula? #
Here's a basic formula for calculating the conversion rate of a sales funnel:
Conversion Rate = Number of Sales / Number of Unique Visitors * 100
2. Which funnel builder is best? #
1. Convert kit.
2. Active campaign
3. Aweber
4. Leadpages
5. GetResponse
6. MailChimp.
7. ClickFunnels
3. Which niche is best for affiliate marketing for beginners? #
When selecting a niche, you should pick a niche in which you are interested or a high-ticket niche that would benefit your sales.
Popular niches for 2023 are:
Fashion industry
Technology
Traveling
Gaming
Education
Health and Nutrition
Finance